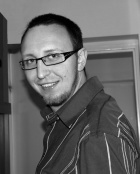 I'm a Ruby enthusiast since 2006. I didn't start using Ruby along with Rails which I'm kinda proud of. I mainly focus on development but also do some system administration aside. I'm big advocate of Linux and SQL especially PostgreSQL. I live in Wrocław, Poland where I work for Arkency and participate in local Ruby Users Meetings.
I was a speaker at RuPy 2009 conference talking about reusable components.
I maintain some ruby gems. Check out my GitHub account. I would love to see your opinions and suggestions!
Don't hesitate to poke me and buy me a beer if you enjoy reading this blog!